1310 KDIA, Oakland


"Seven Strong Personalities"




Circa 1962?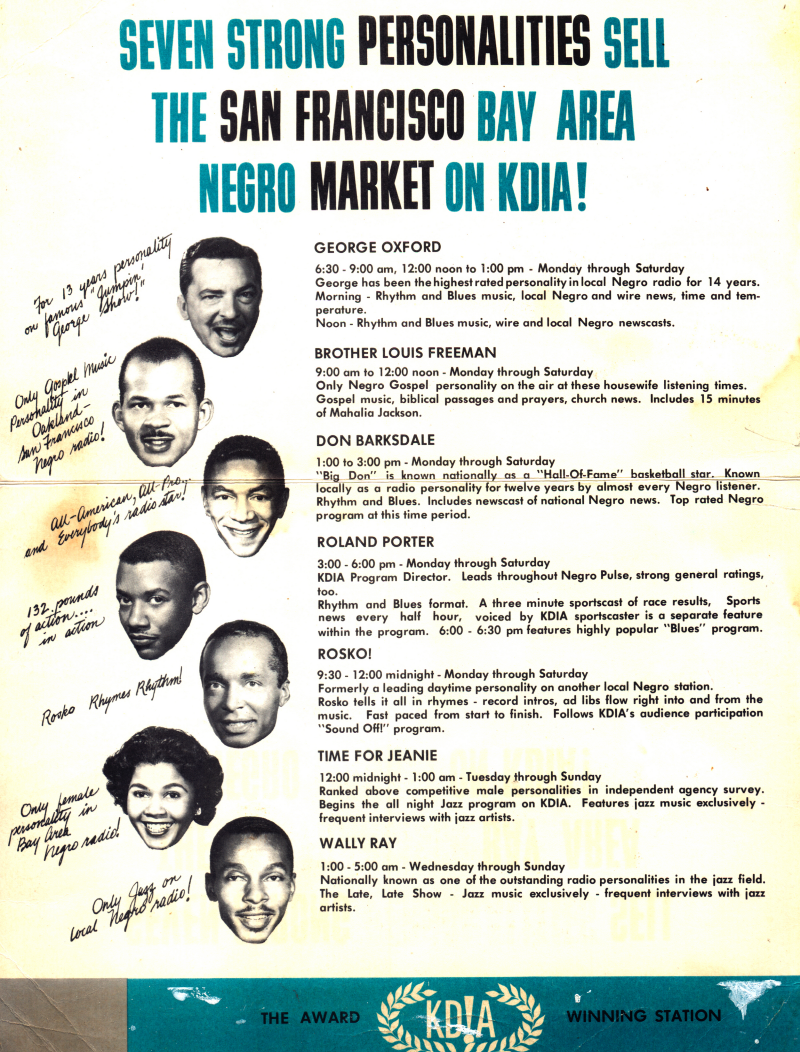 A promotional marketing hand-out from KDIA, issued in the early 1960s, showing the station's talented on-air team. The text of the document reads:
SEVEN STRONG PERSONALITIES SELL
THE SAN FRANCISCO BAY AREA
NEGRO MARKET ON KDIA!
GEORGE OXFORD
6:30 – 9:00 am, 12:00 noon to 1:00 pm – Monday through Saturday
George has been the highest rated personality in local Negro radio for 14 years.
Morning – Rhythm and Blues music, local Negro and wire news, time and
temperature.
Noon – Rhythm and Blues music, wire and local Negro newscasts.
BROTHER LOUIS FREEMAN
9:00 am to 12:00 noon – Monday through Saturday
Only Negro Gospel personality on the air at these housewife listening times.
Gospel music, biblical passages and prayers, church news. Includes 15 minutes
of Mahalia Jackson.
DON BARKSDALE
1:00 to 3:00 pm – Monday through Saturday
"Big Don" is known nationally as a "Hall Of Fame" basketball star. Known
locally as a radio personality for twelve years by almost every Negro listener.
Rhythm and Blues. Includes newscast of national Negro news. Top rated Negro
program at this time period.
ROLAND PORTER
3:00 – 6:00 pm – Monday through Saturday
KDIA Program Director. Leads throughout Negro Pulse, strong general ratings
too.
Rhythm and Blues format. A three minute sportscast of race results. Sports
news every half hour, voiced by KDIA sportscaster is a separate feature
within the program. 6:00 – 6:30 pm features highly popular "Blues" program.
ROSKO!
9:30 – 12:00 midnight – Monday through Saturday
Formerly a leading daytime personality on another local Negro station.
Rosko tells it all in rhymes — record intros, ad libs flow right into and from the
music. Fast paced from start to finish. Follows KDIA's audience participation
"Sound Off!" program.
TIME FOR JEANIE
12:00 midnight – 1:00 am – Tuesday through Sunday
Ranked above competitive male personalities in independent agency survey.
Begins the all night Jazz program on KDIA. Features jazz music exclusively –
frequent interviews with jazz musicians.
WALLY RAY
1:00 – 5:00 am – Wednesday through Sunday
Nationally known as one of the outstanding radio personalities in the jazz field.
The Late, Late Show – Jazz music exclusively – frequent interviews with jazz
artists.
Morning man George Oxford was elected to the Bay Area Radio Hall of Fame in 2006 as a member of the first class to be inducted. "Big Daddy" Don Barksdale, KDIA's afternoon announcer, was elected to the Class of 2007.
"Lucky 13" KDIA, broadcasting from Oakland at 1310 AM, was a popular Rhythm & Blues and Soul Music station in the 1960s through the 1970s. The station, which dated back to 1920 when its original owners, brothers Stafford and Eugene Warner, put experimental station 6XAM on the air from Oakland, was first licensed commercially as KLS in 1922.
In 1945, KLS became KWBR, its new call letters signifying "Warner Brothers Radio" (no relation to the movie studio). In 1959, the Warner family sold KWBR to Sonderling Broadcasting, which operated a popular station in Memphis, WDIA, which targeted its programming toward the large black population in the Mid-South region. Correspondingly, KWBR became KDIA and the station began its new programming format on December 12, 1959.
SOURCE: Scanned document courtesy of Johnny Morris from the Bay Area Radio Digest Collection.
Related Exhibits: